Things move quickly in recruiting and Tom Izzo gave further proof of that with a scholarship offer today to Javon Bess, a wing from the Columbus, Ohio area and a player who was not even on the radar of most MSU fans. Zach Fleer, of fellow SBNation blog Land-Grant Holy Land was on site and the first to break the news:
'14 combo-guard Javon Bess has been offered by Michigan State

5:26 PM - 2 Oct 13
The recent commitment of point guard Lourawls "Tum Tum" Nairn answered one big question about Tom Izzo's 2014 recruiting class, but plenty more remain. Continuing uncertainty about the plans of Devin Booker and James Blackmon, and the apparent cooling of MSU's interest in Josh Cunningham, leaves Michigan State still actively in the market for wing players in 2014. That search took Izzo to Gahanna, Ohio, a suburb of Columbus, today, for open gym at Lincoln High School.
High school hoops junkies may remember Lincoln as the school that crushed nationally number-one ranked Columbus Northland, which featured Jared Sullinger and Trey Burke, in the 2010 Ohio state tournament. Lincoln now features the long and versatile Bess, who only began drawing active interest from Michigan State and Tom Izzo a couple of weeks ago.
Fleer has seen a lot of Bess and was in attendance at today's open gym. He graciously agreed to pass along some questions to Javon for MSU fans who may not yet be very familiar with him. These questions were posed before the offer was actually made:
ZF/TOC: A lot of Michigan State people don't really know a lot about you. How long has Michigan State been after you and how long have you been hearing from them?
JB: About two weeks ago is when I first started hearing from them and they called me and said they'd be coming to open gym and an assistant coach came. They said Coach Izzo was going to come today and he did.
ZF/TOC: What player would you compare yourself to, that you think you play like or model your game after?
JB: There's no one specific player that I play like. I just try to do everything on the court, knock down shots, get my teammates involved, and just play wherever they need me.
ZF/TOC: What role are you looking to fill at the next level, wherever you decide to go?
JB: I feel like I could be a guard or a wing, who could play the 1, 2 and sometimes the 3.
ZF/TOC: How do you think you would fit into Tom Izzo's system if you were to decide to go to Michigan State?
JB: I feel like I would fit his system. I just need to get up there on a visit, see more about the campus, see how the team plays, stuff like that.
ZF/TOC: Other than your upcoming visit to Kansas State, do you have any other visits set up?
JB: We have a visit coming to Michigan on the 18th and 19th, but that's tentative.
---
Bess is currently rated a three-star prospect by all the major recruiting services. He's 6'5", 185 LB and is variously listed as a shooting guard, small forward or combo-guard. The scouting report is that Bess is a slasher who can get into the lane and finish with either hand. He shoots best off a screen and is working to improve his perimeter jumper. His length gives him the versatility to potentially play any of the perimeter positions.
Bess plays AAU ball for All-Ohio Red, as Adreian Payne and Kenny Kaminski did, and his stock has been rising over the summer. He had a double-double against Tyus Jones and the Howard Pulley Panthers in the AAU Super Showcase when he was often matched up with Reid Travis.
The offer to Bess has stirred a lot of discussion about what this might mean for MSU's standing with other prospects. I tweeted my views on this shortly after the questions started rolling in:
For those asking, I wouldn't say the Javon Bess offer says anything definite about Booker or Looney. Izzo has to keep his options open.

5:40 PM - 2 Oct 13
In fact, James Blackmon just tweeted this picture along with a statement that his decision is coming soon: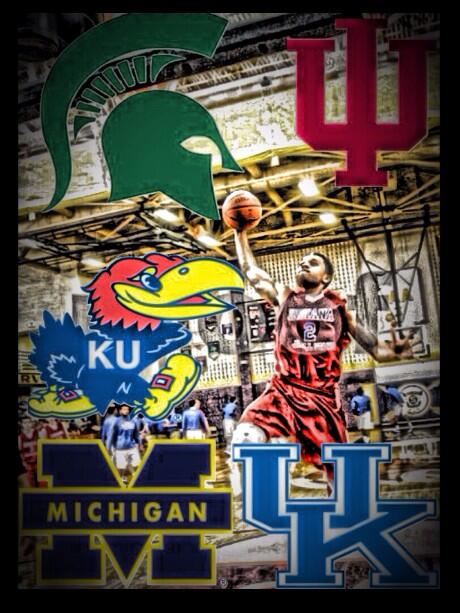 We'll have more on Javon Bess and the rest of the 2014 class as events continue to unfold. A big H/T to Zach Fleer for his help with this piece. You can follow him on Twitter at @ZachFleerLGHL.