First off here is the bracket as it stands:
Here's what the updated #B1GTourney bracket looks like. #MarchOnBTN pic.twitter.com/fHDiam1p8F

— Big Ten Network (@BigTenNetwork) March 13, 2015
Next here is the log5 before the tournament started: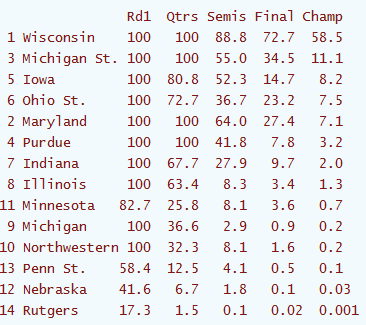 Here are the current odds of each remaining team advancing based on KenPom ratings:
| Team | Semi-Finals | Finals | Champions |
| --- | --- | --- | --- |
| Wisconsin | 90.7% | 79.8% | 63.7% |
| Ohio State | 51.0% | 31.8% | 10.4% |
| Michigan State | 49.0% | 30.1% | 9.6% |
| Maryland | 57.5% | 23.6% | 6.2% |
| Purdue | 63.4% | 11.6% | 4.6% |
| Indiana | 42.5% | 14.5% | 3.1% |
| Penn State | 36.6% | 4.5% | 1.2% |
| Michigan | 9.3% | 4.1% | 1.2% |
Wisconsin's odds of winning have improved because KenPom had Illinois as a bigger threat than Michigan and the biggest threat on the Badgers' side of the bracket (Iowa) has been knocked out. Ohio State is now the 2nd favorite because it was able to get past Minnesota. Ohio State and Michigan State are basically a wash but the winner will be the favorite from their side of the bracket to go to the finals.
MSU's NCAA Seed
According to bracketmatrix, MSU is currently a high 7 seed and with Iowa going down, the Spartans look to be fairly safe at a 7 seed. If MSU has a close game against Ohio State (win or loss) they will likely stay at a 7 seed. As there appears to be a sizable gap between the 6 and 7 seeds, in my opinion, the only way they can jump to a 6 seed is if they beat both Ohio State and Maryland then lose to Wisconsin in the finals. This is an excerpt from an MLive article:
"I have Michigan State as a seven (seed) now, (and) I don't think they can drop much,'' Joe Lunardi said on a Tuesday teleconference. "I could see them in an eight-nine game. But short of running the table here and winning three games in the Big Ten tournament, I also don't think they are going to decline (and improve their seeding) considerably.
Prediction
Michigan State ends up losing a close game to Ohio State who beat Indiana in the semi-finals before ultimately losing to the Wisconsin in the finals. The B1G ends up with 7 tournament teams Wisconsin, Maryland, MSU, OSU, Iowa, Purdue, and Indiana. In the podcast, Joe and Chris made some good points about how MSU was pretty fortunate in their first matchup where they shot 47% from 3 and the Buckeyes shot just 5-13 from the FT line. Branden Dawson had a big game in the first matchup and while he may be back from what appeared to be concussion-like symptoms, who knows how well he'll be able to play in his first game back.
Recruiting News
2015 MSU target Caleb Swanigan recently cut his list down to 7 schools: Arizona, Cal, Chicago State, Duke, Kentucky, Michigan State, and Purdue. While I don't think Chicago State and Purdue will land him, the other 5 seem to be in contention. MSU is his leader in 247sports crystal ball, but I think Duke is the team to beat at the moment. He was at the UNC-Duke overtime game with other 5-star recruits and that was a great environment to be in. I do think MSU is still in the running and somewhere in his top 3, but it'll likely come down to where he feels he can get minutes early and which team will be the best fit for him.